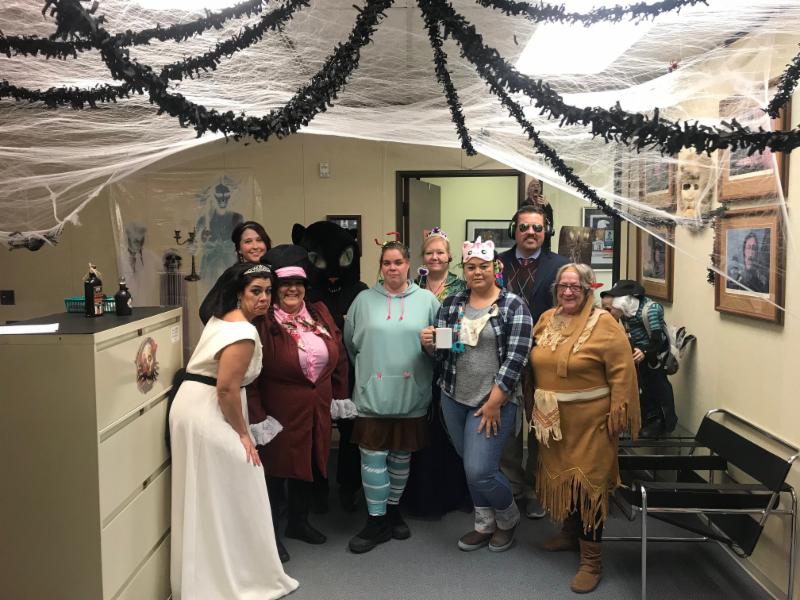 01 Nov

Happy Day-After Halloween
As many of you saw yesterday, we go all out in our office for Halloween!
Here's the link to our Facebook page for pictures of our office PLUS some of our other fine agents who got into the spirit!
And to make things MORE INTERESTING NEXT YEAR…let's make it a CONTEST for our agents! All office pictures will need to be submitted by NOON on Halloween, and then we will have the winner announcement at 1:00 pm! More details to come next year but you can always start thinking about it today…
VOTING FOR ALASKA'S FUTURE: NOVEMBER 6, 2018
Listen, it's really important.
The benefit of working above the Elections Office is that we see the long lines of people turning out early to vote. We also get to peek and take advantage of NO LINES! Josh and I took advantage today to vote.
The important lesson in this is that there are nations that don't get to vote. There are people who are unable to vote. Don't waste your opportunity! And if you don't vote, you can't complain about the outcome. Take a moment to vote for our future! Vote early and visit us if in ANC! Or make sure to vote on November 6th.
OUR FIRST CANNABIS RISK IN THE COUNTRY FOR THIS CARRIER WAS BOUND THIS WEEK – CHECK IT OUT BELOW!
Josh and I are also investigating alternative financing to help your customers get the financing assistance for this and other products. Stay tuned!
NO REWARD WINNERS LAST WEEK! : (
YOU HAVE A REWARDS CHOICE!
We are willing to donate either $10 to your favorite charity (must have a website and be a non-profit, and be able to take credit cards), or you can choose to get a Starbucks Gift Card. That's how we reward readership!
Take a look at the risks below and email me to let me know if we can donate to your local charity or to your need for caffeine.
UPDATE COLLECTIBLES 
Thanks to Malone Insurance for signing up this week! It's pretty easy, and within 24 hours, you will have access to the applications.
Click on this link to get started!
Get Started Today with your Own Agent Portal to Collectibles!
___________
Have you noticed the really low sub-limit most policies have for collector items? We have a new product to solve that for you! Collectibles might be guns, knives, toys, Native Art, comic books, movie memorabilia, sports items, fine art, Zippo lighters..anything someone finds of value to themselves. This product is available to both individual collectors and dealers.
The minimum premium is $50! The best part is that you only need one sign-up for each agency, and then your entire office has access to the quoting system.
Click the links below to check out their brochure!
Collectibles Brochure for Dealers
Collectibles Brochure for Collectors
DID YOU NOTICE A FEW OF OUR TEAMMATES MISSING IN OUR HALLOWEEN OFFICE PICTURE? 
Tim and Christine had the flu bug yesterday, and Theresa is lying by a pool somewhere sunny far, far away from Anchorage. But how would you know until you tried to send them an email? Save yourself time and energy by sending requests to:
This will "insure" that your info gets into the hands of the first available underwriter! You can still ask for your fave underwriter in your email, and they can work on it for you as soon as they can.
Also, we have updated forms on our website-you can always find what you are looking for there, and if you can't, email me and ask!