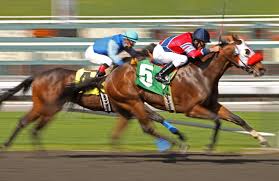 02 May

May is HERE!
AND WE'RE OFF!
It's the beginning of the summer season! Construction is in full swing on the roads and in homes/offices, trees are being cut back, lawns are being mowed and cleaned up, and everyone is in full work mode. It's like our whole world is waking up! As we gear up for the summer, (or as I call it, the "Racing Season"), make sure to send your requests to our designated emails for faster responses. We are constantly pursuing efficiencies in our office to help our underwriters do what you love them to do-quote stuff for you faster!
As always, if you REALLY want it fast and haven't moved to paperless (there are just a very small few of you now!), please send me an email at akorver@ticak.com so we can get that switched over for you. 
In case you do love horses and racing and want to get in the spirit of it all, the Kentucky Derby is this Saturday, May 4th. If you want the latest info, here's a link to get your self educated before the big day:
Kentucky Derby Basic 411
On another note, Cinco De Mayo is this Sunday! Being Irish, German and Mexican, my brother says that we truly got the best of all the party holidays. 🙂 Here's a quick margarita recipe if you plan to celebrate with family and friends:
Best Margarita Recipe You Need!
But if you're looking for a simple route, Costco's Margarita Mix w/ the alcohol is always the way to go. They also have a non-alcohol version for those that need to go to work and be productive on Monday. 🙂
Here is also a link if you wanted more info on this holiday:
5-Surprising Facts about Cinco De Mayo
One email connects you!
**Please remember to put the policy number in the "subject" line except for new business. Thanks!**
YOU HAVE A READING REWARDS CHOICE!
Bill, Nastasha and Angie all recognized their risks last week, so I sent out some Starbucks cards and donated to someone's favorite charity. Not only did they read, they also corrected me on some of my errors in posting-so thanks for reading!
Take a look at the risks below and send me an email so we can either donate to your favorite local charity or send you a Starbucks $10 gift card.akorver@ticak.com
Upcoming Insurance Events:
Insurance Professionals of Anchorage (IPA) Voting and Induction of Officers June 12, 2019 at the BP Energy Center 11:30 am-1:00 pm
RSVP to: joyce.kubitz@hubinternational.com
________________________
AIIAB Golf Tournament
Friday Evening 4:30 pm-11 pm
6/28/19
REGISTRATION OPEN!
Click this: AIIABto request a registration or for more information
_________________________
AIIAB Annual Convention
Theme: SPORTS
Fairbanks, AK
Westmark Hotel
Tuesday-Thursday
10/15-17/2019