17 Aug

Thinking Thursday – Death Valley floods

In this edition:
Houston/Mat-Su area suffered massive flooding last week
Follow up to the Death Valley floods-$12M in Emergency Funds released
Cool Insurance Trivia Facts
Have you registered for AIIAB Convention 2022 yet?
Gold Dad Jokes this week (with more to come)

August Out of Office
Tim out all of August
Josh out 8/22-24
Ang out 8/22-26
Johnny out 8/19th in the afternoon

Simply send all information directly to:
info@ticak.com
(For Stargate issues, general questions, and for sending supporting docs both pre and post-binding)
renewals@ticak.com
(Renewal quotes)
quotes@ticak.com
(New Business quotes)
endorsements@ticak.com
certificates@ticak.com

AIIAB Annual Insurance Convention
September 27-29, 2022
Sitka, Alaska
Convention Theme: Gold Rush

Time to Register!
Have you done it yet?!
Convention link HERE

The Opening Cocktail Reception,
sponsored by The Insurance Center,
will be held on Tuesday evening 9/27/22 at
The Bayview Restaurant and Pub
407 Lincoln Street (upstairs)
Downtown Sitka, AK 99835

The theme for our party is..
SOLID GOLD
Come join us in beautiful Sitka!
We will also have Cyber CE Class at the convention, as well as some other great educational opportunities!
Shine on!
Follow-up to last week's historic flooding in Death Valley leads to $12M in Emergency Funds
In the follow up to last week's historic flooding in Death Valley, there was $12M in funds released to help fund the crisis.
$12M in funds released for Emergency Funds for Death Valley Floods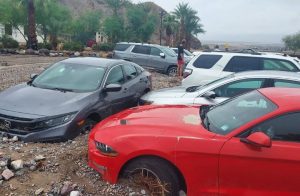 Reading Rewards are either a $10 Starbucks card or a $10 donation to the charity of your choice!
If you see your risk below, you can choose to send a $10 to the donation of your choice or receive a gift card to Starbucks. To claim your Reading Reward, email: akorver@ticak.com
10 Expensively Insured Body Parts
How much does Cristiano Ronaldo, soccer superstar, insure his legs for? What is America Ferrera's smile worth? What kind of insurance policy does a coffee or wine expert need?  For these interesting yet true facts, check out: 10 Expensively Insured Body Parts from CNBC News
New Gold Dad Jokes
Q: Why did they build a castle for the pile of gold?
A: Because it's a noble metal.
Q: What do you call a piece of gold who is afraid of the spiders?
A: A chicken nugget
Q: What did the iron say to the gold when it tried to wake him up?
A: AU, get out of here!
Q: What award show does gold like to wear every year?
A: Golden Globes.
Q: What's another name for fake gold?
A: Shamrock
Q: Which fairy tale character is worth the most?
A: Gold-ilocks
Q: What do miners put on their dry skin?
A: Gold bond.