24 Feb

Thinking Thursday – Fur Rondy is Here! VR Insurance Claims
Fur Rondy is Here! VR Insurance Claims
In this week's edition:
Enter the portal to try Stargate today!
Fur Rondy starts tomorrow-so much fun!
VR Insurance Claims on the rise
Marine Car Carrier still on fire one week later
Dad joke of the week + Hank the Tank
______________________________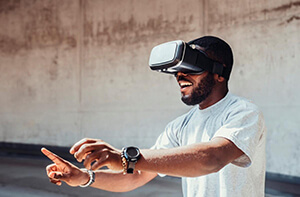 VR Insurance Claims are on the rise
From The Hustle:
It turns out VR can get a little too immersive
The sad truth of virtual reality games is that regardless of how immersive the experience, players are still firmly planted in the physical world. When gamers forget that, bad things happen (in other words, they break stuff).
Case in point, insurance claims that mention VR headsets jumped 31% in 2021, per Sky News.
The rise of VR insurance claims tracks closely with the popularity of VR headsets. Since 2016, claims are up 68%, with the average claim coming in at ~$880.
Aviva, an insurance company, shared examples of the claims they've received, which include:
A broken TV, from a gamer throwing a remote after being frightened by a zombie.
Broken designer figurines, from a gamer swiping them off a mantlepiece.
As they say, it's all fun and games until someone gets hurt — but it turns out that's happening too. VRtoER is a subreddit that collects injuries from VR games, counting 83k members and a long list of injuries. So why does this matter?
With ~8m VR headsets sold since 2020, VR claims won't be going away any time soon.
Brad Slingerlend from NZS Capital argues augmented reality is the better option for almost every type of app, and that big tech companies are moving in the wrong direction by focusing efforts on immersive VR.
One reason? Being tethered to the real world prevents accidents. If immersive VR is your thing, just make sure to give yourself some space.
______________________________

A fast cyber quote can protect your customers and increase your cross-selling opportunities.
You can get multiple cyber quotes in minutes!
Stargate is ready for you-just enter the portal! All quote, binder, and policy documents created after 1/1/2022 are accessible for both Personal Lines and Commercial Lines. Additionally, payment status on any active invoice can be looked up in real time. To gain access to Stargate, reach out to Tim Gibson at tgibson@ticak.com. He can also give you a Zoom demonstration if you would like. Stargate is located at the top right hand side of our website for your convenience.
______________________________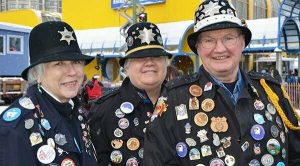 Fur Rendezvous is here!
Only in Alaska can you Run with the Reindeer, see people play snowshoe softball, bowl on a frozen river, watch people race outhouses, and see furs being sold outdoors on the open market. It's Fur Rondy baby! There are concerts, parties, fireworks, and even Alaska's own 2022 Miss America will be in town at a celebrity gala held in her honor. Check out the list of all the events and activities around Anchorage and get out there to have some Alaskan-sized fun! Fur Rondy Events for the next two weeks
______________________________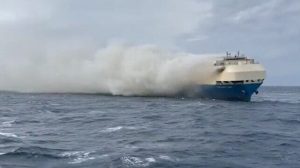 If you are waiting for a Porsche, Volkswagon or Lamborghini, your wait might be longer.
From PropertyCasualty360 and Rueters:
A car carrier holding more than $401 million in autos from Volkswagen, Porsche and Lamborghinis continues to burn in the Atlantic. Anderson Economic Group, a Michigan-based consultant, assumes a $334.6 million cargo loss, Bloomberg reported.
After the crew abandoned ship a week ago, this cargo carrier with luxury cars is still on fire. Why? Lithium batteries are REALLY hard to put out with just water. Container ship carrying luxury vehicles still on fire a week later
______________________________
FEBRUARY OUT OF OFFICE:
Chris: Out until end of February
Corey: Feb 25
Tim: Feb 25
March Out of Office:
Josh/Ang: March 4-17
Kerry: March 11-14
Stacy: March 22-25
Johnny: March 24-25, March 31-April 1
Simply send all information directly to:
(For Stargate issues, general questions, and for sending supporting docs both pre and post-binding)
(Renewal quotes)
(New Business quotes)
______________________________
Reading Rewards are either a $10 Starbucks card or a $10 donation to the charity of your choice!
Amy claimed her reading rewards last week-thanks for reading! If you see your risk below, you can choose to send a $10 to the donation of your choice or receive a gift card to Starbucks. To claim your Reading Reward, email: akorver@ticak.com
______________________________
Dad joke and AK Cruise Contest
Dad joke of the week:
When does a joke become a "dad joke?" When it becomes apparent.
______________________________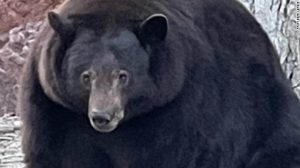 WANTED: Hank the Tank breaks into homes when he's supposed to be sleeping
We all love those "bad news bears" stories and Hank the Tank is making national news. Instead of hibernating, this Tahoe resident is breaking into human homes for food this season which is dangerous for him and residents. Tahoe's bear Hank the Tank breaking into homes instead of sleeping