03 Nov

Thinking Thursday – Halloween Contest Winners: Homer Insurance Center!

In this edition:

*TIC Halloween Contest Winners: Homer Insurance Center!

*Aegis Launch Meeting to be held November 9; we will do it both Live and via Zoom! 

*Cyber Definition of the Week: DDoS Attack

*Please note: lots of people are coming/going this month, so check out Nov Out of Office

*And of course…Dad Turkey Jokes!

November Out of Office

Jessica: 11/3-8

Kerry out: 11/4-7, 11/10

Chameng: 11/8

Kelly out: 11/11

Johnny out: 11/14, 17,18

Angela: 11/9-14

Josh and Angela: 11/21-23

TIC will be open on Veteran's Day 11/11

TIC Closed Thursday Friday

11/24-25 for Thanksgiving

TIC will be closed 12/9 at noon for our Holiday Team Luncheon

Simply send all information directly to:

(For Stargate issues, general questions, and for sending supporting docs both pre and post-binding)

(Renewal quotes)

(New Business quotes)

Cyber word/definitions of the week:

DDoS Attack:  A distributed denial-of-service (DDoS) attack is a malicious attempt to disrupt the normal traffic of a targeted server, service or network by overwhelming the target or its surrounding infrastructure with a flood of Internet traffic.

In a DDoS attack, cybercriminals take advantage of normal behavior that occurs between network devices and servers, often targeting the networking devices that establish a connection to the internet. Therefore, attackers focus on the edge network devices (e.g., routers, switches), rather than individual servers. A DDoS attack overwhelms the network's pipe, (the bandwidth) or the devices that provide that bandwidth.

Here's a useful analogy: Imagine that several people call you simultaneously so that you can't make or receive phone calls or use your phone for any other purpose. This problem persists until you block those calls through your provider.

Notice that you don't fix, upgrade or otherwise make adjustments to your actual mobile device. Instead, you fix the connection between the attackers and your phone by using your mobile phone provider's blocking service.

A similar thing happens during a DDoS attack. Instead of modifying the resource that is being attacked, you apply fixes (otherwise known as mitigations) between your network and the threat actor.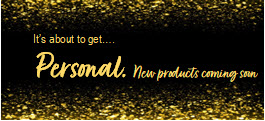 NEXT WEDNESDAY 11/9: Launch/Welcome Meeting for Aegis! We will do a hybrid event on Wednesday, November 9th, with Aegis Representatives and our TIC Personal Lines team in Anchorage live and in conjunction with a Zoom meeting. We will be having it at the Crowne Plaza Hotel in the Borealis Room in Anchorage from 1-3 p.m. and via Zoom. A special email invite went out this morning with more details, a Zoom link and an RSVP.  If you didn't receive it, please email akorver@ticak.com and we will send it to you. We are looking forward to seeing many of our long-lost friends at this meeting!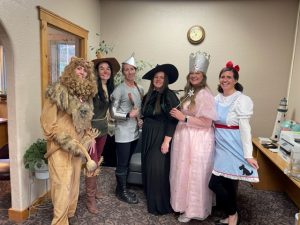 Congratulations to Homer Insurance Center as the 2023 TIC Halloween Contest Winners! But Honorable Mention needs to go out to Dusty Silva and friend who missed our deadline because she was actually in Romania at THE Dracula's Castle!! Thank you to everyone who participated, and next year if your office dresses up, send us your pix!
Reading Rewards are either a $10 Starbucks card or a $10 donation to the charity of your choice!
If you see your risk below, you can choose to send a $10 to the donation of your choice or receive a gift card to Starbucks. To claim your Reading Reward, email: akorver@ticak.com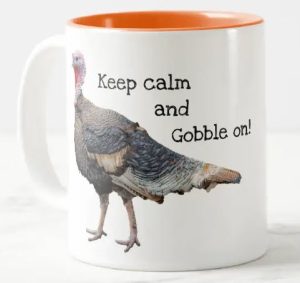 Dad Thanksgiving Jokes!
What sound does a turkey's phone make? "Wing, wing."
Why were the beans accused of being jealous of the other side dishes? They were so green.
What's a running turkey called? Fast food.
Who should you invite to your Friendsgiving? Your close group of Palgrims.
Why did the turkey bring a microphone to dinner? He was ready for a roast.
What Thanksgiving treat is the most popular at the kids' table? Crayon-berry sauce.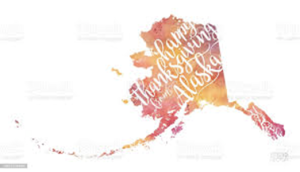 The 5 Relatives of Thanksgiving
Here's a fun 5 minute video on "The Five Relatives of Thanksgiving." Now that we are able to gather again, I hope you will find a quick moment of humor as we all get ready for the holidays.
The Five Relatives of Thanksgiving