27 Oct

Thinking Thursday – Halloween Office Costume Contest

In this edition:

*Please take our surveys! Are updated Supplemental Applications needed annually with Surplus Lines Policies?

*Stargate and Website updates coming soon

*MONDAY 10/31! Are you ready to WOW us with your office costumes? Who will be this year's big winner of the TIC Annual Halloween Office Costume Contest?

*TIC ready to launch American Modern in next few weeks-early testers welcome!

*Save the Date! Aegis Launch Meeting to be held November 9; we will do both Live and Zoom! 

*Cyber Definition of the Week: "Spraying Attack"

*TIC 2023 Calendar Survey Answer: Yes!

*And of course…the last of the Halloween Dad Jokes!

October Out of Office

Jessica: 10/25-11/3

Chameng: 10/25-28

Stacy out at noon 10/31

TIC Closed from noon-1:00 pm 10/31/2022 for Halloween potluck/judging of costumes

___________________________

Simply send all information directly to:

(For Stargate issues, general questions, and for sending supporting docs both pre and post-binding)

(Renewal quotes)

(New Business quotes)

Cyber word/definitions of the week:

Spraying Attack: A password spraying attack is a type of brute force attack where a hacker, much like the name implies, "sprays" an authentication server with combinations of usernames and common passwords. Attackers often run through lists of commonly used passwords available on the web.
TIC 2023 Calendars and Promo Swag
Who knew our calendars were so well loved? And let's face it, since we now have places to go and people to see, it's time to plan again! So we will create wall and computer strip calendars and get them out to you in December. Thanks for letting us know they were popular!
*Speaking of being popular, our TIC phone pocket was seen on one of our customer's teenage son's phones today. How star-spangled awesome is this photo?
Reading Rewards are either a $10 Starbucks card or a $10 donation to the charity of your choice!
If you see your risk below, you can choose to send a $10 to the donation of your choice or receive a gift card to Starbucks. To claim your Reading Reward, email: akorver@ticak.com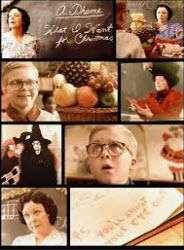 How often are updated applications and supplementals required?
Like poor Ralphie, no one likes extra paperwork. Currently, most of our admitted carriers only require updated applications and supplementals every 3 to 5 years depending on the coverage and market. However, for Surplus Lines, we require a full updated set of applications and supplements every year. This has more to do with Alaska's due diligence requirement than anything else. The traditional thinking by us and our carriers was that a risk could not be properly remarketed to satisfy due diligence unless fresh applications were created every year. However, we are looking to learn about other options, and you can help by answering some questions for us.  Please take the surveys below to help us improve our customer service experience for you!
Are there Surplus Lines products where annual updated apps are not required?
If you answered "YES," how often do they require them for that Surplus Lines Policy??
Can we reach out to you directly to learn how this is done? (We just want to know how, not who)
It's about to get…Personal. 
We are getting closer to launching American Modern! If you are a current customer with them and want to be an early-market tester for us before the official launch, please reach out to Johnny at jkohler@ticak.com for more information.
Save the Date 11/9/22 Wednesday! You voted, we listened! We will do a hybrid event on Wednesday, November 9th, with Aegis and our TIC Personal Lines team in Anchorage live and in conjunction with a Zoom meeting. We will be having it at the Crowne Plaza Hotel in the Borealis Room in Anchorage from 1-3 p.m. and via Zoom. We will send out a special email invite next week with more details and a Zoom link and RSVP.  Thank you for letting us know what worked for you!
Stargate and TIC Website updates coming soon 
Please note that we will be making some updates to our website in the next few weeks.
But did you know that through Stargate, you can look up your own Dec Pages and/or see if payments have been made by your customers?  Tim can teach you-just email him at tgibson@ticak.com. And soon we will have quick videos on Stargate to show you how to do this too!
Dad Halloween Jokes!
What's a vampire's favorite fruit? Neck-tarines.
Why did Dracula take cold medicine? Because he was coffin too much.
What's a vampire's favorite ice cream flavor? Vein-illa.
Why do vampires not want to become investment bankers? They hate stakeholders.
Why are vampires bad at art? They are only able to draw blood.
Why do skeletons have low self-esteem? They have no body to love.
Know why skeletons are so calm? Because nothing gets under their skin.
What do you call a cleaning skeleton? The grim sweeper.
What do skeletons order at a restaurant? Spare ribs.
Why didn't the skeleton go to the scary movie? He didn't have the guts.
What do you call a skeleton who goes out in the snow? A numb-skull.
Who won the skeleton beauty contest? No body.
Where does a skeleton go for a fun night? Anywhere, as long as it's a hip joint.
Do you know any skeleton jokes? Yes, but you wouldn't find it very humerus.
What's a skeleton's favorite song? "Bad to the Bone."
Why can't skeletons play church music? Because they have no organs.
Why did the skeleton start a fight? Because he had a bone to pick.
Where did the skeleton keep his money? In the crypt-o market.
What kind of art do skeletons like? Skulltures.
What is a skeleton's favorite instrument? A trom-bone.
How do you fix a damaged jack-o'-lantern?You use a pumpkin patch.
What room will you never find in a ghost's house? A living room.
How are vampires like false teeth? They both come out at night.
What do you call a witch at the beach? A sand-witch.
What did the fisherman say for Halloween? "Trick or Trout!"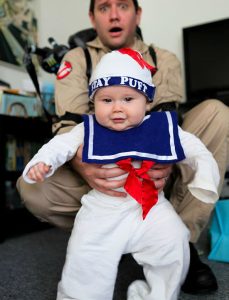 TIC Halloween Costume Contest
THIS IS IT! The big moment is upon us…who will be crowned the champions and holders of the treasured TIC Halloween Trophy for the next year?!  As it's a rotating trophy, the bragging rights get handed off to the next winner for the next year, and of course, lunch for your entire office. Who will be the winners this MONDAY!?
Submit your office group picture by NOON on Monday October 31! Best office Halloween winner will be announced in a special email on Monday afternoon.
GRAND PRIZE: We will pay for your office to go to lunch, plus, the ever-important BRAGGING RIGHTS with THE TIC rotating gold-pan trophy for being the winners of the TIC Best Halloween Office Costume. Get started today! Here's a few from the golden TIC days!