17 Mar

Thinking Thursday – Happy St. Patrick's Day!

In this week's edition:
Chris retires on April 1, 2022
Happy St. Patrick's Day!
WSIA Underwriting Summit Report
Cocktail Reception Theme Revealed!
Iditarod 2022 Winner
March Madness Starts Today-Go Zags!
Dad joke of the week

MARCH OUT OF OFFICE
Stacy: March 22-25
Johnny: March 24-25, March 31-April 1
Chris: Out all month, retires April 1

Simply send all information directly to:
info@ticak.com
(For Stargate issues, general questions, and for sending supporting docs both pre and post-binding)
renewals@ticak.com
(Renewal quotes)
quotes@ticak.com
(New Business quotes)
endorsements@ticak.com
certificates@ticak.com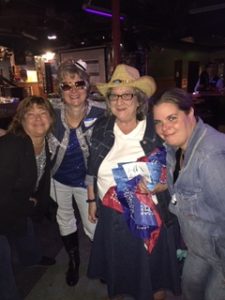 Chris hangs up her hat on April 1, 2022
After 33.5 years at The Insurance Center, Chris will officially retire from our office on Friday, April 1, 2022. No foolin'!
Chris was employee number 4 at The Insurance Center, and she has been a mainstay for many years. Many of you have had so many wonderful memories with her on the phone, at conventions, at other insurance networking opportunities, or just on tvia email. She has been our office "mom," confidant, friend, mentor, super-speedy quote-giver, and the person who has been so faithful to our business over all these years. She has learned every device in our office from typewriter to telex, fax to computer, telephone to iPhone, and has done so with great diligence and ease. It will definitely be a different office without her. While she deserves a life of relaxation, she has been such a key to our success that we will deeply and greatly miss her. She is currently on medical leave and will remain so for the rest of the month, but she would love to receive emails, cards, memories, pictures and other items of her history from you all. You can send email messages to ctrueblood@ticak.com. You can send cards, gifts and other goodies directly to the office and we will deliver them to her. I will also share various pictures of her over the the next few weeks. She loves to dress up for everything fun and is always up for a great time! This picture was from Halloween 2002.
*Sadly, she is allergic to flowers and anything heavily-perfumed, so she kindly requests that you refrain from sending those types of items.
AIIAB Annual Insurance Convention
September 27-29, 2022
Sitka, Alaska
Convention theme: Gold Rush
The Opening Cocktail Reception, sponsored by The Insurance Center, will be held on Tuesday evening 9/27/22
The theme…
SOLID GOLD
Come join us in beautiful Sitka!
Reading Rewards are either a $10 Starbucks card or a $10 donation to the charity of your choice!
Chai claimed his reading rewards last week-thanks for reading! If you see your risk below, you can choose to send a $10 to the donation of your choice or receive a gift card to Starbucks. To claim your Reading Reward, email: akorver@ticak.com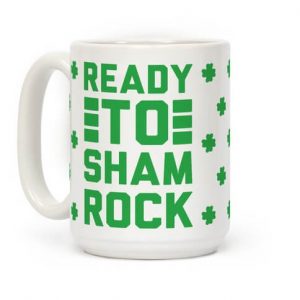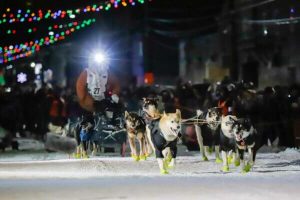 Photo Credit Jeff Chen Alaska Public Media
Iditarod crowns a new winner!
In just 11 days, Brent Sass drove his dogs across Alaska to become this year's Iditarod champion, just beating out Dallas Seavey for the honor at 5:38 am on 3/11/2022. For all the exciting finish details, from Alaska Public Media, New Champion Brent Sass holds off Dallas Seavey to win 2022 Iditarod
WSIA 2022 Underwriting Summit in Orlando, FL
So, what in the world is an Underwriting Summit and why do we attend anyway-what's the big deal? Since The Insurance Center represents our carriers in Alaska, it's important for them to see us at least once a year in person to discuss yearly goals, any losses from the previous year, to communicate their corporate strategic direction, rate changes, product changes, for us to bring up any local issues and concerns, and to discuss new ideas and products that we know you need at home. It also gives us an opportunity to collaborate with other people in our industry who also do what we do to collectively pool our talents and collective knowledge to be innovative and find solutions to problems. We are lucky in Alaska because we are good friends with our competitors and we like to figure out what works and how to best serve our amazing Alaskan customers. And along the way, if we get to enjoy some of the local flavors (like raw fresh oysters) and share some ideas over frosty beverages late at night, that's pretty great too! Here are some pictures from our time there-more can be found on Facebook and LinkedIn. The pix below are from our National Alliance of General Agents meeting, a night at the local Oyster bar, running into Roy and Brian from Superior with our friend Ken Distel from Atlantic Casualty, catching up with other industry friends, getting the Annual Membership Report at the Keynote Breakfast, and wrapping up the event. We will attend the mega-event in September 2022 in San Diego.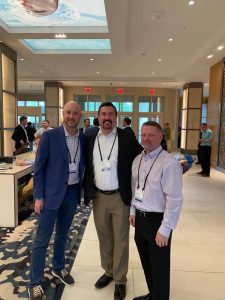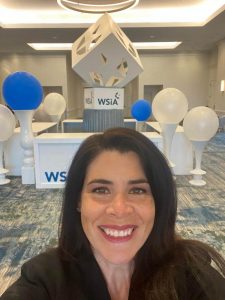 Dad joke of the week: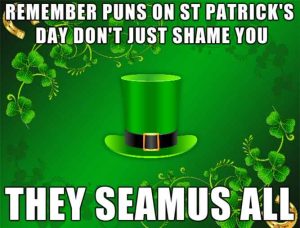 March brings on the Madness!
In case you didn't know, Gonzaga is playing in the NCAA March Madness Tournament. So are the Lady Zags. We wish everyone playing in the tournament a successful and fun run deep into the madness! And GO ZAGS!