23 Dec

Thinking Thursday – Ugly Sweater Contest Winner

In this week's edition:
TIC closed at 2:00 today and all day tomorrow for the holidays. We will be back on Monday 12/28 for normal business hours.
Sourdough Sam and Sweater Steve ready to say goodbye
Ugly Sweater Contest: the Winner Is…
Some cool local Alaska holiday stories
More Holiday Dad Jokes.

DECEMBER OUT OF OFFICE
We will be closed early today at 2:00 to begin celebrating the holidays.
We will also be closed Friday
December 24th-Christmas Eve Day
We will resume normal office hours
Monday December 27th
We will also be closed Friday
December 31 for New Year's Eve Day
Johnny out: 12/27
Chris out: 12/28-29
Angela: Limited access these next few weeks

For faster service, please use our intake emails. Simply send any and all information directly to:
info@ticak.com
(Supporting docs both pre and post-binding)
renewals@ticak.com
(Renewal quotes)
quotes@ticak.com
(New Business quotes)
endorsements@ticak.com
certificates@ticak.com

Local Alaska Holiday Stories & Traditions

Tis the season where we all just like to hear some good old fashioned tales of great holidays around Alaska.

The first one is about how the Star of Anchorage was born on the mountains outside of Anchorage. The history behind the Anchorage Star of Lights

The city of Douglas does a tree-lighting ceremony right after Thanksgiving and brings the community together. Christmas begins with songs and lights in Douglas

And what Christmas wouldn't be complete without a trip to see Santa?? Luckily for Alaskans, we get to see him at the North Pole all year around, but it's especially wonderful at this time of year. Go Visit Santa Claus House in Fairbanks

What's better than being in Alaska during the winter? Reading about it cozied up reading a great book by a fire is the next best thing. One book by Debbie Macomber is called Christmas in Alaska, and another one is by Nora Roberts called Northern Lights. Both are great romance/mystery novels that reflect on life in Alaska during the winter.
Sourdough Sam and Sweater Steve had a wonderful holiday working for The Insurance Center…even on snow-plowing day! They did some ziplining, wrapped gifts, helped with Christmas decos, and even learned to work remotely at Casa De Korver. They will be back next year to celebrate the holidays and make them a bit brighter.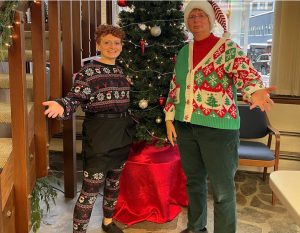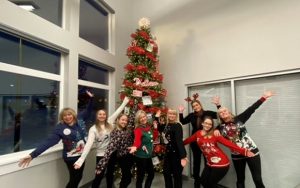 TIC's Ugly Sweater Contest 2021 winner is…Ashlynn and Sue!
And the co-winners for most seasonal spirit is Team Barrett! Thank you for participating!
Reading Rewards are either a $10 Starbucks card or a $10 donation to the charity of your choice!
If you see your risk below, you can choose to send a $10 to the donation of your choice or receive a gift card to Starbucks. To claim your Reading Reward, email: akorver@ticak.com
Already looking forward to 2022? So are we. The following is a list of Holidays that The Insurance Center will observe for the calendar year 2022. The days we observe generally follow the Federal days off.
Monday May 30: Memorial Day
Monday/Tuesday July 4-5: 4th of July
Monday September 5: Labor Day
Thursday/Friday November 24-25: Thanksgiving
Monday December 26: Day after Christmas holiday
Friday December 30: Day before New Year's Eve
Dad Holiday Jokes
The final jokes of the holidays! There is nothing better than a good, wholesome Dad joke to keep the fa-la-ha-ha-ha going! Here are this week's dad jokes:
1. How did the ornament get addicted to Christmas? He was hooked on trees his whole life.
2. Why was Santa's little helper depressed? Because he had very low elf esteem.
3. What does the Grinch do with a baseball bat? Hits a gnome and runs.
4. What do you call a broke Santa Claus? Saint-nickel-less.
5. What do you call a kid who doesn't believe in Santa? A rebel without a Claus.
6. Why did Frosty ask for a divorce? His wife was a total flake.
7. Why does Scrooge love reindeer so much? Because every single buck is dear to him!
8. What do you get when you cross a duck with Santa? A Christmas quacker.
9. What's Santa's favorite snack food? Crisp Pringles.
10. Why do mummies like Christmas so much? They're into all the wrapping.
Wishing you all a wonderful and happy holiday weekend. See you on Monday!