14 Oct

Thinking Thursday-What we wrote this week

In this week's edition:
40th Anniversary Party is finally here!
Meteorite punches through house-how do you insure that?
Holiday Marketing Ideas
TIC's Annual Halloween Costume Contest coming in two weeks!
Moment when fiction meets reality: Boldly going where no 90 year old has ever gone before
TIC/AIIAB Opening Cocktail Party and our 40th Anniversary Celebration
Please note our party officially kicks off at 6 pm on Tuesday 10/19/2021, so feel free to join us at that time.
Also, our office will be closed Tuesday 10/19/2021 at noon so we can get ready for our big night. Our office will be open on Wednesday at 8 am. For all the details, click on the blue link below for more information.
The Insurance Center's 40th Anniversary Invite

For faster service, please use our intake emails.
Simply send any and all information directly to:
info@ticak.com
(Supporting docs both pre and post-binding)
renewals@ticak.com
(Renewal quotes)
quotes@ticak.com
(New Business quotes)
endorsements@ticak.com
certificates@ticak.com
But someone is always available!
If you get an "Out of Office" response from one of our team members, simply forward your message to info@ticak.com, as that email is always monitored and handed off to the right person. Thank you!
October Out of Office:
Kerry out: 10/13-10/15
Stacy and Johnny: Wednesday 10/20 they will be at the Vendor Trade Show at the AIIAB
Convention from 3-7 pm at the Captain Cook.
Thursday night 10/21 Chris, Kerry and Sara will be at the AIIAB Final Banquet
Chris out: 10/21
**Please note our office will close at noon Tuesday 10/19 to get ready for our 40th Anniversary party.
Reading Rewards are either a $10 Starbucks card or a $10 donation to the charity of your choice!
If you see your risk below, you can choose to send a $10 to the donation of your choice or receive a gift card to Starbucks. To claim your Reading Reward, email: akorver@ticak.com
TIC Halloween Costume Contest
Our annual TIC Halloween contest is back! Time to roll out your favorite costumes for fun and prizes.
Submit your office group picture by NOON on FRIDAY 10/29/21! Best office Halloween winner will be announced in a special email on Friday afternoon. PRIZE: We will pay for your office to go to lunch, plus, the ever-important BRAGGING RIGHTS with a trophy for being the winners of the TIC Best Halloween Office Costume. Get started today!
Take your marketing up a notch this holiday season!
This very successful real estate agent has been posing her skeletons at her home showings online with great results! This is just one way to create some buzz for your business and engage your customers. What could you be doing today for your social media pages to make it interesting and fun? Don't forget that Elves and Turkeys are great ideas too going into Thanksgiving and Christmas…
Halloween Skeletons breathe new life into Real Estate Marketing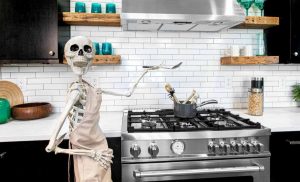 What happens when you wake up to a meteorite crashing through your ceiling?
For one Canadian woman last week, she is counting her lucky stars that it just missed her head, as it landed on the pillow next to her as it punched it's way through her roof. So how does an insurance company insure this? I think that is still to be determined. For all the details from Yahoo.com, Canadian woman wakes to meteorite crash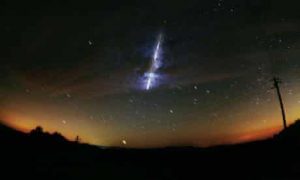 Captain Kirk and William Shatner made history yesterday by launching into space. This was a truly historical voyage, and for many of us, it's amazing that fantasy has become a real-life accomplishment. For all the details and to read about his reaction to seeing earth from the inside a real space ship, from APNews: Shatner's Blue Origin Space Launch