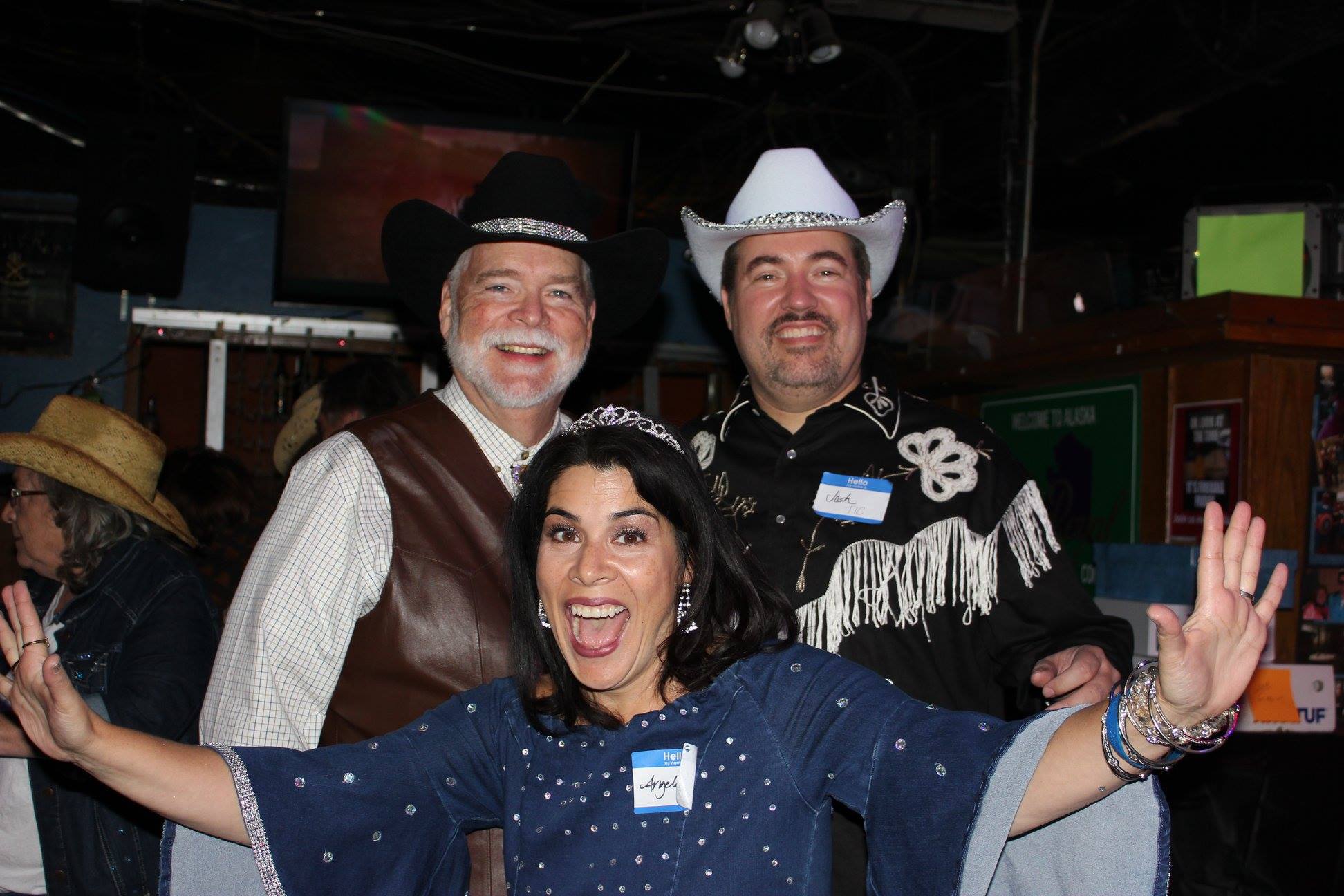 11 Oct

What A Party!
What. a. PARTY!
Every year, I walk away from the Opening Cocktail party and I wonder how in the world I will ever be able to top it the following year. I love the thrill of being given a convention theme, and then the fun I have plotting and planning to make it an awesome party.
But I seriously don't know how it's going to be better than the party we had at The Gaslight Lounge this week.
First, thank you to EVERYONE who spent hours decorating their outrageous costumes. I can't believe the amount of jewels and sparkles that went into that night! I am excited we had so many people embrace the theme! And of course, a huge shout out to the bull riders who made the entertainment! And mostly, the entire Alaska Insurance Professionals who make this a night to always remember-we are so honored to be able to serve you, and treat you to a great evening of merriment.
We appreciate you choosing us as your local MGA, and thank you, always, for your business.
I still have 15 more hours of convention to go! Thanks again for the memories! I'll be posting more tomorrow on Facebook. Also, if appropriate, feel free to share your photos on our Facebook page!
Click below to be taken to our photos
Just some of our photos from a great night!
Winners of the Costume Contests 
David Hale– Best Dressed Cowboy
Michelle Colletta– Best Dressed Rodeo Cowgirl
Petersburg-Wrangell – Best Dressed Office
The Cowboy and Cowgirl received Gift Certificates to Big Ray's for $125 each so they could go pick out their own Alaskan Cowboy Boots (or as we call them, XTra Tuffs!)
And the office winner gets lunch on us for their staff, as well as the bragging rights until next year.
LOCAL SHOUT-OUTS
Thanks to the team at the Gaslight Lounge who had never thrown a private event, and even dropped in a new bartop for us so we could have a great experience.
I would also like to thank the team at Xtra Tuffs for providing prize options for the ladies,, the friendly folks at our local Qdoba (did you know they were locally owned?) who did a great job with the food, my friend Allison Raye for her artistry on the custom cupcakes,
and the team at Party World who helped us at the last minute with some decorations.
But mostly, I would like to thank our entire team, especially Chris, Sara and Kerry, who helped me spearhead decorations this year to make it a great event, and for everyone pitching in to make it a great night for you all. We will have more videos and pictures, and next week, we will get back to our normal Thinking Thursday.
THANKS FOR READING!
Lisa and Shelby read our Thinking Thursday and recognized their risks last week, so to reward them for their faithful readership, they got to claim a $10 Starbucks Gift Certificate. After reading ALL this awesome news today, if you recognize one of these risks as yours, please send an email to: