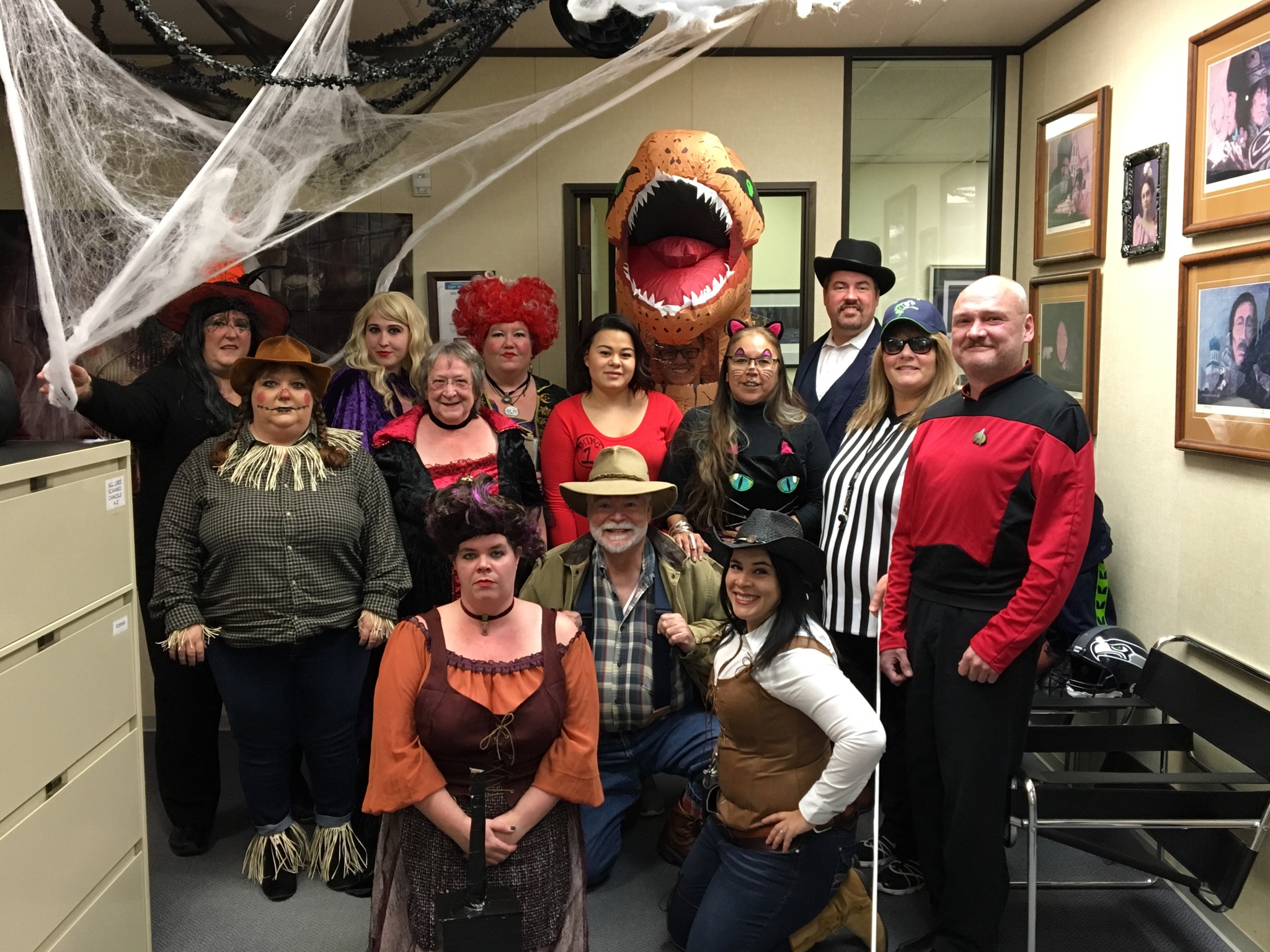 25 Oct

What are you going to be for Halloween?
SPOOKY PICTURE TIME!
Kerry and Sara always go above and beyond to make our office extra-horrific during Halloween! We welcome any of our agents and friends to come check out our decorations, and consider coming by on Halloween day, where dressing up here is practically mandatory! We give out candy and tricks…come by and say hi! Click below on the link to scroll through our office pix, and especially my extra creepy "Chuckette" doll, who is currently living in my office ceiling, and might go live on Facebook tomorrow!
SPOOKY OFFICE PIX
And speaking of going live…
I will be going live next week on Facebook! Send me your most asked questions from your customers, as we are starting a segment called Insurance Infomercial to help you! You can share our answers on your website to help your customers get answers to their questions. I am assured by the Millennials in my office this is the only way to go…
UPDATE COLLECTIBLES!

Thanks to Integra Insurance for signing up this week! It's pretty easy, and within 24 hours, you will have access to the applications.
Click on this link to get started!
Get Started Today with your Own Agent Portal to Collectibles!
___________
Have you noticed the really low sub-limit most policies have for collector items? We have a new product to solve that for you! Collectibles might be guns, knives, toys, Native Art, comic books, movie memorabilia, sports items, fine art, Zippo lighters..anything someone finds of value to themselves. This product is available to both individual collectors and dealers.
The minimum premium is $50! The best part is that you only need one sign-up for each agency, and then your entire office has access to the quoting system.
Click the links below to check out their brochure!
Collectibles Brochure for Dealers
Collectibles Brochure for Collectors
CHANGES TO REWARDS FOR READERSHIP
YOU HAVE A REWARDS CHOICE!
We are willing to donate either $10 to your favorite charity (must have a website and be a non-profit, and be able to take credit cards), or you can choose to get a Starbucks Gift Card. That's how we reward readership!
Thanks to Nancy, Heather/Kelly, and Amy who recognized their risks last week!
One person asked me to donate to her local charity, and two others asked me to donate to their happiness with a Starbucks card. We are always happy to support the causes that mean the most to you, whether it's a need for caffeine or doing something locally for your community.
UPCOMING PRODUCTS 
Cannabis risks are starting to get quoted here! As soon as we get a bind, we will share it with you. Thanks for trusting your local MGA to help you get the coverage your customers need, here in Alaska!
We also did a Convention Flyer that explained all the upgrades on tech and products that we have made this year-and we aren't through yet! Click on the link below to take a look at the future…
HOW DO YOU KNOW IF YOUR FAVORITE UNDERWRITER IS TAKING A HOLIDAY, A CLASS, OR IS OUT SICK THAT DAY? 
Unfortunately, you won't until you email them and get their out of office message. Eliminate delays and extra work for yourself by sending your request directly to:
This will "insure" that your info gets into the hands of the first available underwriter! You can still ask for your fave underwriter in your email, and they can work on it for you as soon as they can.
NOT JUST ADMITTED ANYMORE! TIC 2018 UPDATES
Josh and I are also investigating alternative financing to help your customers get the financing assistance for this and other products. Stay tuned!
VISIT OUR NEW WEBSITE 
Thanks to the good eyes of our faithful readers who are making suggestions that allow us to make changes/forms updates/etc. within hours! We take your suggestions seriously, and now have the ability to work quickly to implement changes that need to be made. Send your favorite underwriter or me an email if you need something that needs our attention!akorver@ticak.com
_______________________